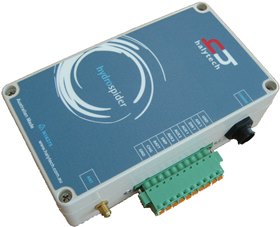 The hydrospider2 is an ultra low power economical solution for data logging, automatic reporting and alarm dialing. It communicates via SMS, email, FTP, Twitter and more.
The hydrospider2 is housed in a compact IP60 enclosure. Its small size makes it ideal for a variety of environmental and industrial monitoring applications.
The whole system including an external battery is designed to fit inside a Tipping Bucket Rain Gauge (TBRG), dramatically reducing installation costs of rainfall monitoring stations.
The hydrospider2 has an easy to use web interface with built in help. It can be used with any computer or operating system without the need to install any
software.
The hydrospider2 can:
monitor inputs (analogue, digital, counters, frequency, quadrature/shaft encoder)
control outputs
generate SMS, email and twitter alarms
record data
send data via e-mail, FTP and/or HTTP
communicate via internal 4G/3G module
be used in dusty environments
charge an external SLA battery via a built-in solar panel / mains charger
update software automatically in-field from remote servers, or update from connected PC.
The hydrospider2 is ideal for short and long term monitoring. It can interface with a wide range of sensors and meters and the browser interface makes it easy to set up and test.
Once installed the hydrospider2 will log data and automatically send reports via e-mail, FTP and/or HTTP. User configurable alarms can activate outputs, send SMS, e-mail and twitter alarm messages and automatically send data reports.
Note: A LANlink Cable (sold-separately) is required to connect the hydrospider2 to a computer for configuration via the built-in web server.
Economical – low upfront, installation and operational costs
Easy to use – simple familiar web browser interface
Easy to install
Small size –  designed to fit inside a Tipping Bucket Rain Gauge (TBRG)
No special software required
setup and download using browser

can be managed remotely (requires LiveSMS option)
reports sent straight to your PC or server
text/csv reports open in Excel
receive reports via email, FTP and/or HTTP
No licenses, royalties or service agreements
Large internal memory – full local backup of data
Physical
Dimensions: 158(W) x 90(H) x 46(D) mm
Weight: 360 g
Enclosure: ABS rated IP60
Operating temperature:
-5 to +60 degrees Celsius (standard)
-20 to +60 degrees Celsius (with "X" option)
Data Recorder
Capacity: approximately 400,000 records
Storage memory: Non-volatile FLASH
Time resolution: 1 second
Time synchronisation: Automatic by NTP
Download format: CSV file
Power Supply
Operating voltage: Nominal 12V DC
Charger type: Built-in battery management system supporting an external SLA battery and external 12V solar panel and/or 16 - 24V DC mains charger
Backup battery: Internal, user replaceable 9V battery
Warranty
Factory backup 12 months parts and labour guarantee
Inputs
Number of inputs:
Up to 2 digital
Up to 2 analog
4 system inputs
Up to 16 SDI-12 / Modbus or RS-232 (with factory option)
Digital Inputs:
0 - 12V DC Voltage or voltage-free switch contact
Can be used as switch, event (rainfall), counter or utility meter inputs (user selectable)
Analogue Inputs: Resolution 12 bits
4 - 20 mA, common ground
0 - 2.4V, common ground
0 - 5V, common ground
0 - 10V, common ground
Counter / Event Inputs
Minimum pulse width: 5 ms
Maximum frequency: 100 Hz
Range: 0 - 999,999
System Inputs:
System temperature
External battery voltage
Charger voltage
Internal moisture sensor
Outputs
Number of outputs 2 
1 x open collector for accessory control
1 x switched power for sensor control
Alarms
Number of alarms: 16
Type: SMS, Twitter and/or e-mail transmission
Trigger: User definable input and trigger point
SMS / e-mail / twitter text: 1 per alarm, user definable
Number of phone numbers: 3 per alarm, user definable
Number of e-mail addresses 3 per alarm, user definable
Communication Interfaces
Ethernet: 10/100 base-T with LANlink Cable
Cellular phone module: Built-in 4G with 3G fallback
Antenna: internal antenna - external antenna with SMA connector
Internet connectivity: 4G, 3G, LAN (with LANlink cable)
Optional Display / Keypad: Backlit 2 line x 16 char LCD, 3 key keypad
Product is available in a variety of configurations to suit your needs, you may specify any of the following:
SDI-12 / Modbus or RS-232 Intelligent Interface option
Display / Keypad: Backlit 2 line x 16 char LCD, 3 key keypad
LiveSMS
Provides remote access from a web browser or mobile phone and extends the SMS capabilities of the microSpider2. Features include alarm acknowlegement, control activation and the ability to schedule modem power ups to create communication windows.
DNP3
Compliant with Level 2 of the DNP3 standard, supporting all of the microSpider2's inputs and controls, the DNP3 option allows the microSpider2 to communicate with a SCADA system via 4G/3G modem or local area network.
LANlink Cable (required to connect hydrospider2 to a computer)
Mains Power Supply
12V Solar Panel
12V 7.2Ah Sealed Lead-Acid Battery
Tipping Bucket Rain Gauge (TBRG)
Mounting Bracket for TBRG
12V 2.3Ah Sealed Lead-Acid Battery (fits inside TBRG)
Software
hydrospider2 Software v1.90 (Zip File)
hydrospider2 SDI-12 / RS-485 Software v1.90 (Zip file)
hydrospider2 RS232 v1.90 (Zip file)
Manuals / Brochures
hydrospider2 Quick Start Guide
DNP3
hydrospider2 Device Profile

hydrospider2 XML Device Profile (Zip file)